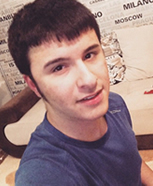 Orhan BAHAR
Software Developer
PHP is trying to develop itself in the simple people up since 2008. Also in the professional environment and I'm just giving support to specific projects.
Orhan BAHAR

June 12, 199x

Çiftlikköy Mh. 3257 Sk. Ecco City Plaza B 6/24 Çiftlikköy/MERSİN

orhanbhr@hotmail.com

+90 (537) 864 2783

www.orhanbhr.com
Employment
Co-Founder at Hemen Hosting

2015 - Present

High Level

Servers, Hosting, Domain, SSL and other Web Solutions

Software Developer at Yib Bilişim

2014/02 - 2014/04

High Level

System Coding, Task Management, Website Software

System Administrator at SUNUCU.COM.TR

2013 - 2014

Middle Level

Technical and Customer Service Management

Co-Founder at TrKod Network

2011 - Present

High Level

Data Service Solutions, Widgets Solutions, Content Management, Hosted Solutions

Software Developer at Freelance

2008 - 2011

Middle Level

E-Commerce, Web Portal, Task Management, Collections, Website Software, Website Design
Education
Computer Programming

2013 - Present

Yakacık Technical and Industrial High School - MAOL

Courses in computer and C# has been observed.

High School

2011 - 2013

Kadriyörükoğlu High School

Course not seen in any professional field.
Graphics and media skills
Photoshop

Fireworks

Flash
Programming Skills
CodeIgniter

PHP

JQuery / Ajax

AngularJS

NodeJS / Socket

HTML5 / CSS3

Laravel

MySQL / MongoDB
Versioning Skills
Git / Github

Git / Bitbucket
Design Skills
Graphic Design

Web design

I'm proud I've done some projects with the opportunity to have a day's work in that if you do not necessarily suffer if our office.
Contact info
Çiftlikköy Mh. 3257 Sk. Ecco City Plaza B 6/24 Çiftlikköy/MERSİN


Email: orhanbhr@hotmail.com
Phone: +90 (537) 864 2783
Website: www.orhanbhr.com